Retro Manufacturing Announces New Licensing Agreement with Ford Motor Corporation
Retro Manufacturing will now offer their vintage-look radio dial screen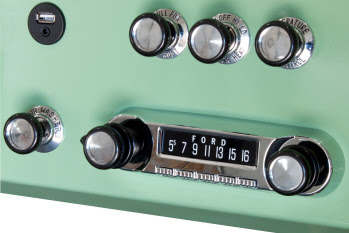 protectors featuring the Ford logo for their line of radios for classic vehicles.  These officially licensed screen protectors adhere to the display of all RetroSound® radios, mimicking the original radio dial for an added touch of authenticity.
"RetroSound® offers an award-winning line of classic car radios with the most modern features, including a Made-For-iPod® interface and built-in Bluetooth®", says Retro Manufacturing President Steve Harrington.  "For our customers to now be able to add an officially licensed Ford logo to their RetroSound® radio — further enhancing the classic look of their vintage vehicle — is really exciting."
These screen protectors are similar to cellular phone screen protectors.  They attach without adhesive and are easy to apply and simple to remove.  The Ford screen protectors are available in three different styles:  early to mid-1960's Ford, mid-1960's to early 1970's Ford, and a screen protector specifically for the new RetroSound® 1966-77 Ford Bronco and 1961-66 Ford F-Series Truck radio.
The Ford screen protectors will be available in packages of three of any one style, with a suggested retail price of $19.95 per three-pack.