Press Releases
Grom Audio Hosts Booth at Volvo IPD Garage Sale and Swap Meet in Portland, OR
Belmont, CA GROM Audio will be hosting a booth at the Volvo IPD Garage on May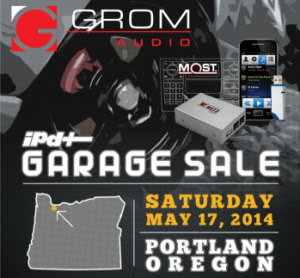 17, 2014. GROM Audio, as the long standing partner of IPD, is delighted to take a part in this event. The annual IPD Garage Sale, Swap Meet and Car Show will take place in Portland, OR. GROM will showcase its latest GROM-MST3P Bluetooth, Android, iPhone and USB kit for Volvo cars with fiber optic stereos, at the event.
"With exciting activities including, games, prizes, giveaways and of course promotional pricing – we are thrilled to take part in the 2014 event!," Leigh Gibbs at GROM.
GROM will donate one GROM-MST3P Bluetooth, USB, Android and iPhone integration Volvo kit for this year Raffle/Auction for Nursingale, a small 501 (c) 3 Portland based pediatric non-profit. IPD teamed up with Nursingale Charity to bring awarness among Volvo community about its wonderful services.