SEATTLE–(BUSINESS WIRE)–Jun. 20, 2019– (NASDAQ:AMZN) – Amazon today unveils its Off-to-College store, the ultimate destination for your college shopping needs. Available on desktop and the Amazon App, students can browse a wide range of essentials with low prices for their dorm, classes and extracurricular activities in one place, without sacrificing valuable summer vacation time. New this year, Amazon enlisted the help of Ava Phillippe to share her own dorm room must-haves. Customers can shop Ava's list or browse college influencer-curated style guides, including earthy artsy, casual throwback, modern minimal and eclectic chic.
This press release features multimedia. View the full release here: https://www.businesswire.com/news/home/20190620005169/en/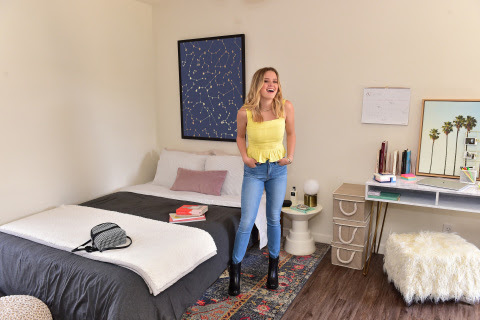 Amazon
 teamed up with 
Ava Phillippe
 to outfit her dorm room with the latest picks from Amazon Home, Devices and more. (Photo: Business Wire)
According to Mintel's 2019 Back to School Shopping Report1, college students are increasingly expected to use their own money to purchase items they need for college. The store will have deals every day and Prime Student members will enjoy exclusive perks for shopping the store. Shoppers can find the college store at amazon.com/offtocollege. With Amazon's already low prices and savings on essentials throughout the summer, shoppers can get the products they need without breaking the bank. Plus, they can enjoy free shipping on millions of items, and Prime Student members can get their items delivered even faster with unlimited free One-Day and Same-Day Delivery.
"We want to support students and parents with everything they need to make the transition to campus life comfortable this year," said Cem Sibay, VP of Amazon Prime. "The combination of Prime Student's convenient shopping and entertainment benefits and our Off-to-College store's incredible deals allows students and parents to stretch every dollar, while keeping all of the fun and excitement that comes with getting ready for college."
Below are just a few of the deals and low prices you'll find in the store this summer:
Curated Dorm Room Style Picks
Amazon has teamed up with second year college student, Ava Phillippe, to offer her dorm room must-haves, featuring her top picks from Amazon Home. Ava's list was created to help inspire students to transform a drab dorm room or small space into a personalized oasis, without sacrificing comfort or value. In addition to browsing Ava Phillippe's dorm room must-haves, students can browse Amazon's new Dorm Styles feature for inspiration. Expertly curated by college lifestyle influencers, each dorm style guide – earthy artsy, casual throwback, modern minimal and eclectic chic – features suggestions on how to transform a cookie cutter dorm room into your home away from home. From the items you need, like bedding and computers, to the ones that will take your dorm living to the next level, like an Amazon Fire TV Stick with Alexa Voice Remote, and a cozy desk chair, Amazon offers all you need to add a personal touch to any dorm room.
Exclusive Perks with Prime Student
Designed specifically for college students, Prime Student offers students the best of shopping and entertainment from Amazon to make campus life easy and fun. Nowhere else can students stream music and thousands of movies and TV shows, receive discounts on college essentials, and get fast, free shipping all in one place. Prime is evolving to be even faster with Prime Free One-Day Delivery now available on 10 million products coast to coast including the best shopping for college. That means that college students will find popular college items including bedding, furniture and school supplies – delivered the very next day or even faster. Students enrolled in two or four year colleges are eligible to sign up for Prime Student and after a six-month trial, Prime Student is half the cost of regular Prime at just $6.49 a month or $59 a year.
Here's the cheat sheet on some of the top benefits students can enjoy with Prime Student:
Explore More on Amazon
College students can also take advantage of these features to make campus life a breeze this season:
Great Finds with Even Lower Prices
Students browsing for all their college essentials can already shop with confidence, as Amazon offers the widest selection of top quality products with low, or the lowest prices. For even more steals, students can browse the following features:
About Prime Student
Millions of members around the world enjoy the many benefits of Prime Student. Prime Student is a Prime membership designed for students and offers the best of shopping and entertainment from Amazon. Students of two- and four-year colleges can enjoy unlimited Free One-Day Shipping on 10 million items and Free Two-Day Shipping on more than 100 million items. Plus, members receive exclusive discounts on a wide selection of college essentials, access thousands of movies and TV shows with Prime Video, stream more than two million songs with Prime Music, enjoy a selection of free games and in-game loot with Twitch Prime. The cost of Prime Student is half the cost, or 50% off of regular Prime. Students can learn more at www.amazon.com/joinstudent and enjoy a six-month trial when they sign up for Prime Student.
About Amazon
Amazon is guided by four principles: customer obsession rather than competitor focus, passion for invention, commitment to operational excellence, and long-term thinking. Customer reviews, 1-Click shopping, personalized recommendations, Prime, Fulfillment by Amazon, AWS, Kindle Direct Publishing, Kindle, Fire tablets, Fire TV, Amazon Echo, and Alexa are some of the products and services pioneered by Amazon. For more information, visit www.amazon.com/about and follow @AmazonNews.
1 Mintel. "Back to School Shopping–U.S." Jan. 2019. Mintel. 9 Apr. 2019.