NASHVILLE, TENNESSEE (July 28, 2020) — Independent game developers Giant Scam Industries, announced today their VR arena shooter, Snapshot VR, is available in Early Access on Viveport and the Viveport Infinity service. The game will be launching for Windows PC via Steam on Tuesday, September 1. Snapshot VR is an online, competitive arena shooter based on tournament level paintball. In teams of up to five, players must eliminate the opposition or hit the buzzer to win a match. With one-shot kills, physics-based projectiles, and nearly unlimited map variety, Snapshot VR is a wholly unique video game experience built from the ground up with the VR platform in mind.
Snapshot VR also features a handy Training Mode where users can place stationary or moving targets via the 2D Paintball Field Creator in order to practice laning and snapshooting (hence the name, get it?) in both single and multiplayer modes. Get the team out, run some drills, and build those skills to take into competitive matches.

Watch the Snapshot VR Launch trailer here:

[YouTube] https://uberstrategist.link/SnapshotVR-LaunchTrailer-YT
[Download] https://uberstrategist.link/SnapshotVR-LaunchTrailer-DL

"We are stoked to finally get Snapshot VR into the hands and headsets of players," said Jesse Keogh, Founder and Lead Engineer at Giant Scam. "We've been working night and day to bring a polished and, most importantly, fun multiplayer experience to VR platforms and can't wait for players to get involved."

Snapshot VR is unlike any other multiplayer shooter on the market right now, for several reasons. The real-world paintball influence (the guys at Giant Scam played competitive paintball for over a decade) brings the history, tactics, and culture of a true sport into the virtual realm. The dev team's experience in both the real sport and building VR games gives them a particular advantage that makes Snapshot VR a unique beast. Combine this with a dedicated community, one of the best map-making tools on the market, metrics and analytics for days, and dynamic player movement designed specifically for this platform and you've got a robust and layered gaming experience that stands apart from its peers.
Key Features of Snapshot VR:
Designed for Virtual Reality: Snapshot VR has been built from the ground up as a multiplayer, arena-shooter experience for the VR platform, from the player's movement to the aiming and shooting
Lean, Fat-Free Multiplayer: Snapshot VR features quick, intense rounds that require deft planning, strategy, and teamwork, but lets players get right into the action without having to run across a giant map or spend half the match hiding in a bush
Physics-Based Projectiles: In order to properly mirror and emulate the real sport, each round fired in Snapshot VR follows a realistic arc and trajectory, which makes developing the right timing and accuracy all the more important
I Like Charts and Numbers: In order to truly maximize one's abilities and likelihood for success, post-game analysis is vital. Thankfully, Snapshot VR provides a bevy of metrics and information to help teams tweak their strategies and focus on winning.
Unlimited Map Diversity: Whether using maps based on real-world NXL layouts or something wholly original, the sheer variety of bunker shapes and placement provides endless possibilities for experimentation with 2D Paintball's Field Creator.
Practice Without Pain: Using the map integration with 2D Paintball, players can add both moving and stationary targets to training maps to practice shooting and run drills in either single or multiplayer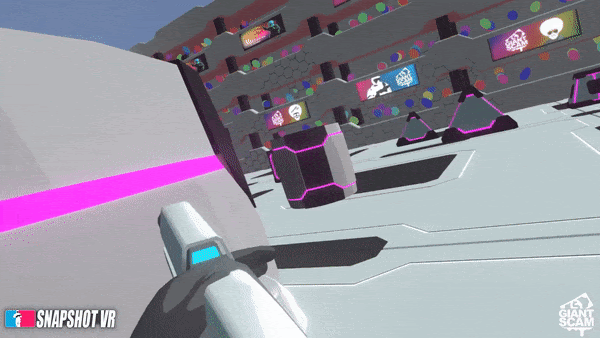 Snapshot VR is now available in Early Access for Viveport and will be on Windows PC via Steam Tuesday, Sep. 1. The game will support the Oculus Rift, Oculus Rift S, HTC Vive, HTC Vive Pro, Vive Cosmos, and Vive Cosmos Elite, Windows Mixed Reality, and Valve index with support for additional VR devices at full launch. Additional features and content, including a custom map creator, will be released throughout Early Access.

A full press kit with logos, key art, screenshots, and trailer can be found here: https://uberstrategist.link/SnapshotVR_Presskit

To keep up to date with all the latest news about Snapshot VR make sure to follow the game on Facebook, Twitter, Instagram, and the official website: http://snapshotvr.com/. Join the growing community and engage with the team on the official Snapshot VRDiscord.

About Giant Scam Industries

Nashville, Tennessee-based Giant Scam Industries is definitely not a scam — it's a totally legitimate company. Founded by a team of innovative developers who met while working at Eventbrite, Giant Scam formed their studio to find ways to push the boundaries of virtual reality game development while creating experiences that are unique and exemplify everything they love about gaming. The studio got its start with its first title, VR rhythm game Chop It, where they explored algorithmic beat mapping in Unity, releasing an open-source solution for procedural rhythm games. Giant Scam is currently working on Snapshot VR, a competitive multiplayer shooter that will be available on Windows PC for HTC Vive and Oculus Rift. For more information about Giant Scam Industries, please visit their official website: http://giantscam.com/.